What Are The Best Window Treatments For Over The Kitchen Sink In Fort Lauderdale?
When you're shopping for window treatments, don't overlook the kitchen -- even if your space only has one window above the sink. If you harbor reservations about splatters of water and food ruining a window treatment over the kitchen sink in your Fort Lauderdale home, make the smart choice with plantation shutters. They look spectacular in any space but stand up to the often wet and messy kitchen environment.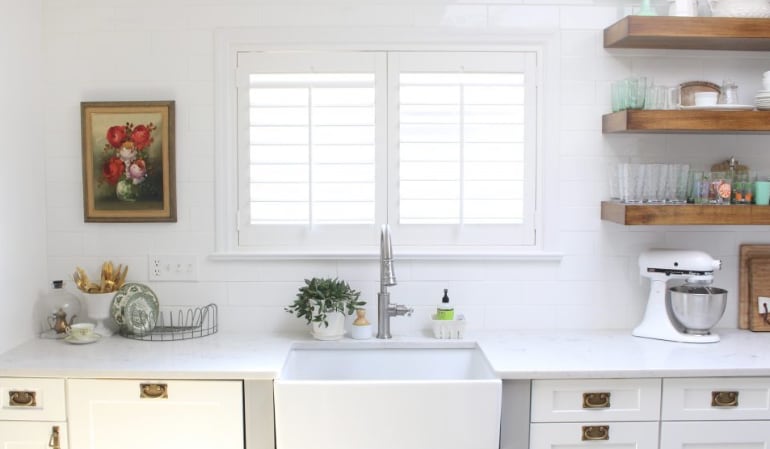 Dazzling Faux-Wood Shutters Look Attractive In Every Fort Lauderdale Kitchen
Window treatments over your kitchen sink in Fort Lauderdale should be simple and durable. But you shouldn't have to abandon style when you install trendy faux wood Polywood plantation shutters.
Polywood shutters blend in easily with any design scheme. They are available in various tones of white that complement your kitchen fixtures and decor, and their strong panels of functional louvers create texture that contrasts beautifully with the the flat elements found in your kitchen. Interior shutters add subtle appeal to both extravagant and simplistic kitchens and everything in between.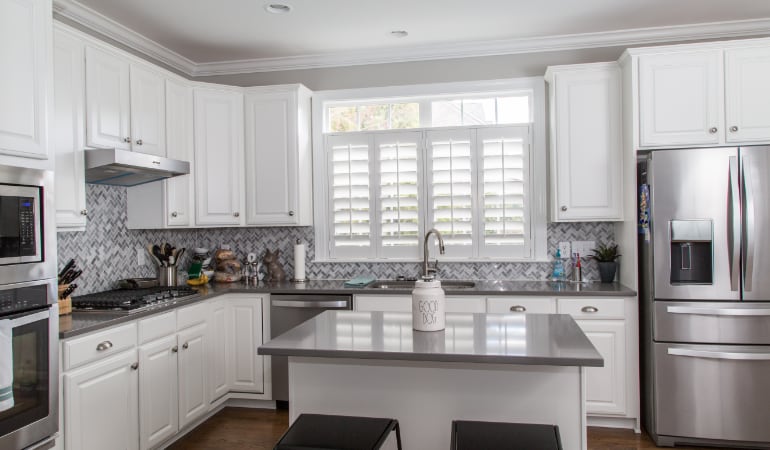 Polywood Shutters Stand Up To Heat And Water
How often do you see water droplets along the window glass when you're trying to boil water or wash dishes? That same condensation clings to window treatments over your Fort Lauderdale kitchen sink, where it will deteriorate fabric shades or curtains as time passes.
Instead, you should consider interior shutters. Their wood substitute and resilient coating ward off the effects of moisture and heat. These popular window treatments are completely waterproof. Polywood shutters will not be yellow, warp, or chip due to the levels of moisture in your kitchen.
Natural sunlight and outdoor conditions also won't impact these window treatments. When Installed for your kitchen window, these plantation shutters must hold up against cold drafts and penetrating UV rays. These long-lasting shutters won't shrink and expand from excessive interior heat or frigid outdoor temps, nor will they suffer from fading due to high levels of sunshine.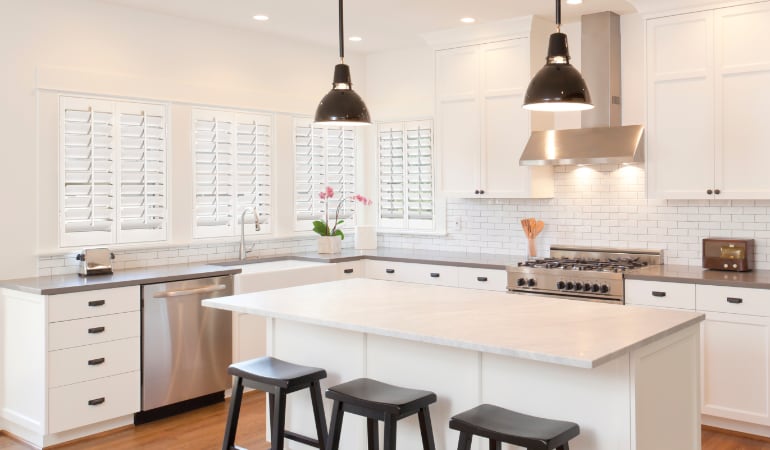 Interior Shutters Give You More Light For Kitchen Work
Getting enough light is critical in your Fort Lauderdale kitchen. There's no reason to harm yourself because you can't see! Plantation shutters give you the right amount of additional light and are easy to operate. Simply swing the panels outward or move the louvers with the easy-to-use tilt rod. You'll never have to fuss with tangled cords or a pull bar that's hard to grab on to when you need to alter the light levels.
If you want full light, swing the panels open wide. If the sun's rays are a bit much, swing the panels back shut and adjust the louvers to your desired light settings. Or use the louvers to redirect glare off of shiny surfaces within your space. If you don't like neighbors looking into your kitchen at night, shut the louvers tight for complete seclusion.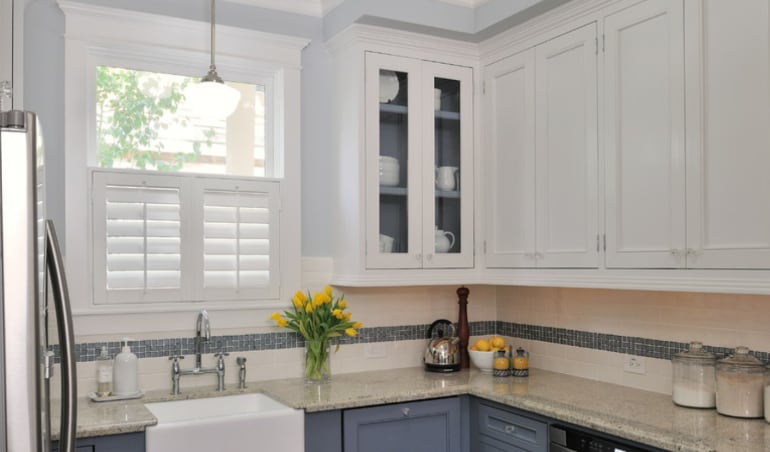 Faux Wood Shutters Clean Up Easily
It's common for kitchen surfaces to become covered in sauce splatters, grease, and dirt. The window treatment over your Fort Lauderdale kitchen sink must be easy to clean. This is one reason why Polywood shutters are excellent options for kitchens. Their hard, smooth finish won't absorb stains and odors as fabric shades do. You just need to quickly wipe them with a soft, dampened cloth, and they'll look new again.
There's no need to waste time carefully poking your dust rag around the openings as you would with inferior blinds. Plantation shutter slats are durable, and you can customize with wider options that create large openings for you to reach through with your cloth.
Purchase The Best Window Treatments For Over Your Kitchen Sink In Fort Lauderdale At Sunburst Shutters Fort Lauderdale
Sunburst Shutters Fort Lauderdale offers exceptional window treatments for any window -- and that includes the windows in your kitchen. Talk to our consultants about what you have in mind, and we'll be glad to help upgrade your kitchen. Reach out to us at 561-440-8535 or complete our online form to request your no-obligation, on-site appointment.