Office Improvements That Make Working from Home Easier In Fort Lauderdale
For some, working from home has become the way it goes -- and brings some unforeseen challenges.
Whether you're a home office juggernaut or looking to make a small office area temporarily, you don't always have to share your living room couch. The key to an efficient workspace in your home is finding items that will make life easier for your daily grind. But this space should also spark joy since you have to live here, too.
From slimmed down desks to energy-efficient plantation shutters, we'll offer five easy office improvements that allow you to work from home easier.
Your Home Office Should Be A Defined Space
While lounging on the recliner and opening the laptop may feel nice initially, not separating "home mode" from "work mode" can feel detrimental to your productiveness.
If you haven't yet, design a committed office space in your home. This space should be primarily for work, separate from non-work activities. This may help you avoid interruptions. You don't have to have a heavy oak desk with a wall full of motivational posters, but at least try to use a table and seat as your home office.
Have a nook in your dining room that would you can use as a workspace? Create a independent office by hanging an easy-to-use, elegant sliding barn door or panel track as a partition.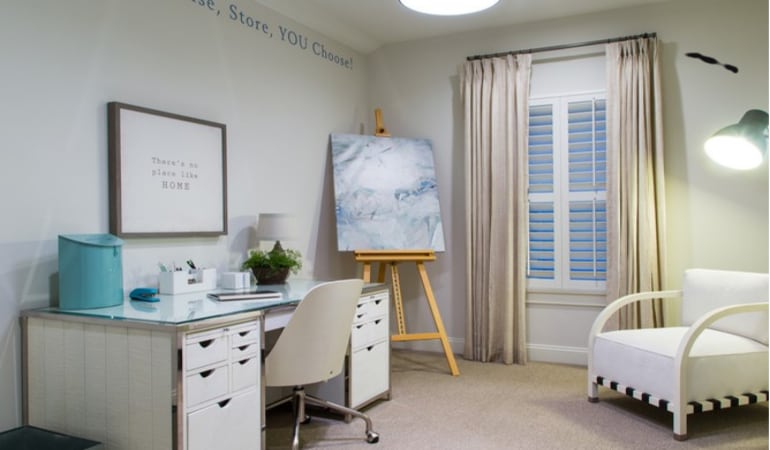 Pick A Desk That Fits With Your Work
As a lot of your day is spent sitting down, you should consider furniture that has ergonomic posture support while catering to your space needs. That means finding the perfect work surface.
However, here's one pro tip: avoid a "fix for now" desk set-up. A side table that poses as your desk from 9-5 will only invite frustration. You should use a surface that adapts to your daily workday. If you primarily use a laptop, a mini office desk or dedicated table is fine. But if you're juggling papers, or want a dual-screen computer setup, you may want a wider desk.
If you can't buy a conventional desk, build one from other materials. An old door or particleboard on top of storage cubbies can easily transform into a versatile work surface. When you finally get the right workspace, the easier work from home can seem in Fort Lauderdale.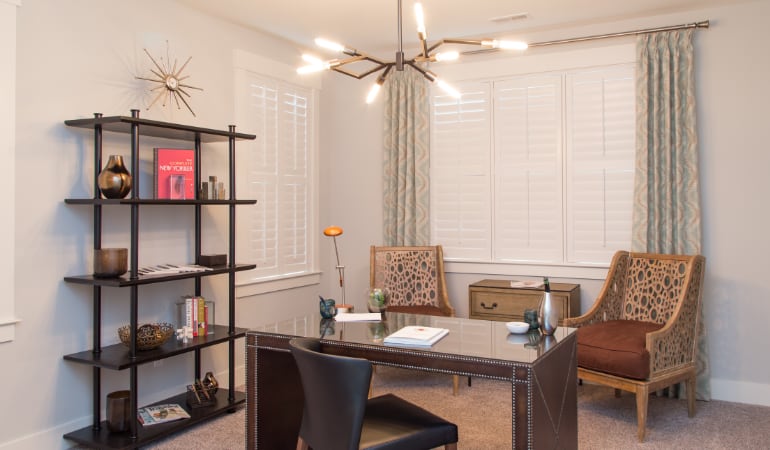 Adjust Natural Sunlight By Choosing The Right Window Coverings
It's no surprise that adequate lighting can greatly affect your daily video conference. Too little light and you're shrowded in shadow, but too much sun glare, and you're looking like a ghost. The amount of outside light can also can make you energetic or lethargic.
To make work at home easier, get a window covering that can handle sun glare. Plantation shutters, for example, have slats that can be tilted so that your desk always has enough outside light without harsh sun glare. They also block ambient racket, like cars or pedestrians. And if your plantation shutters are made of faux wood, they can also keep your workspace comfortable.
Luckily, Polywood shutters are an aesthetically beautiful addition to your work space, not to mention they are simple to dust and operate.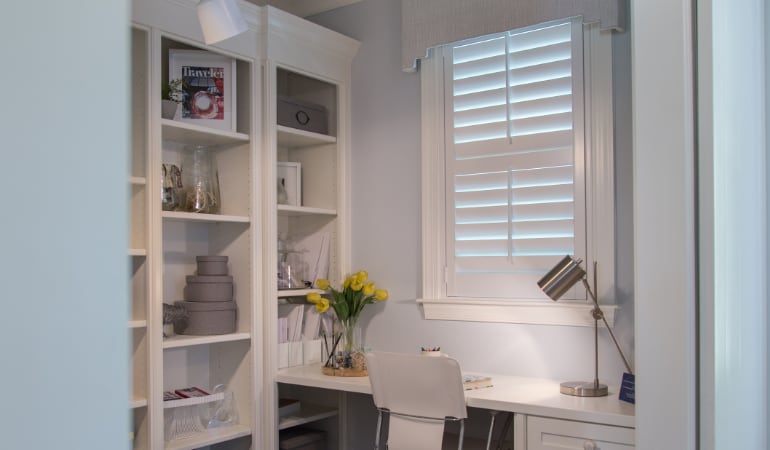 Upgrade Your Seat From That Uncomfortable Chair
Once you have a few days in your new and improved work from home space, you figure out that working from that uncomfortable folding chair just isn't holding up.
Instead, use an office chair that rolls to give your joints some relief, or improve your seating with a little extra back support to have it last longer. Then again, you can just get a standing desk, and then you don't need a chair at all.
It's Alright To Experiment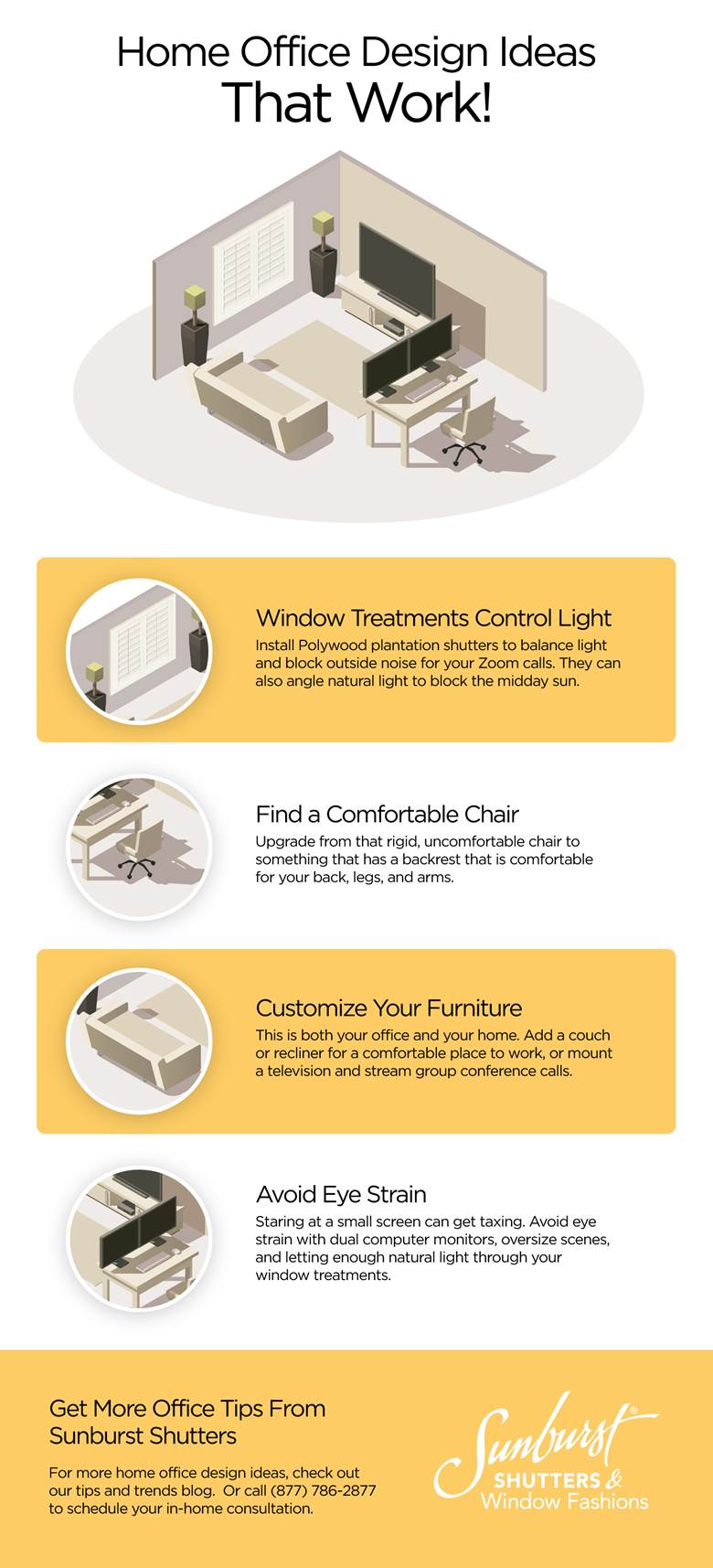 One of the perks of working from home is that you can arrange your area outside the usual cubicle floor plan. However, sometimes finding the optimal set-up takes time and a heap of trials. That means thinking what's best for you.
Always question yourself about what the best way to work. You might need dual monitors instead of a lowly 15-inch screen. You might even want three. Or perhaps you perform best with a wireless keyboard and one or two oversized screens attached to the wall. From standing desks to overstuffed couches -- it's all about you. And if it doesn't work, just change it all without filing an expense report.
Start your Home Office Project in Fort Lauderdale with Sunburst Shutters
Are you ready to take the first step in transforming your space? Just call
561-440-8535
or send in the form below to reserve your in-home consultation. The experts at Sunburst Shutters Fort Lauderdale will help you choose the window treatments that will bring your work space to the next level and make work at home easier in Fort Lauderdale.