8 Ways to Use Reclaimed Wood in Your Fort Lauderdale Home
Fort Lauderdale people clearly like making use of reclaimed wood in its rough-hewn natural state. It's proving to be a trendsetting way to repurpose weathered wood and, at the same time express your individual style. Reclaimed wood products draw one's gaze whether you've featured it on a wall, your cabinets, or – yes! – your windows. Can't quite picture where reclaimed wood would stand out in your home? We've selected 8 top-notch ideas for you – every one of them applied to wonderful effect in Fort Lauderdale homes.
1.Use Reclaimed Wood on Your Windows
For the first time ever, you can easily own reclaimed wood as a window treatment. Sunburst Shutters now offers a plantation shutter formed from reclaimed wood of the finest quality. Actually, Sunburst is the only company providing reclaimed wood shutters in the Fort Lauderdale area. We found the reclaimed wood you love and used it to create a louvered shutter that's incredibly beautiful and remarkably functional at the same time.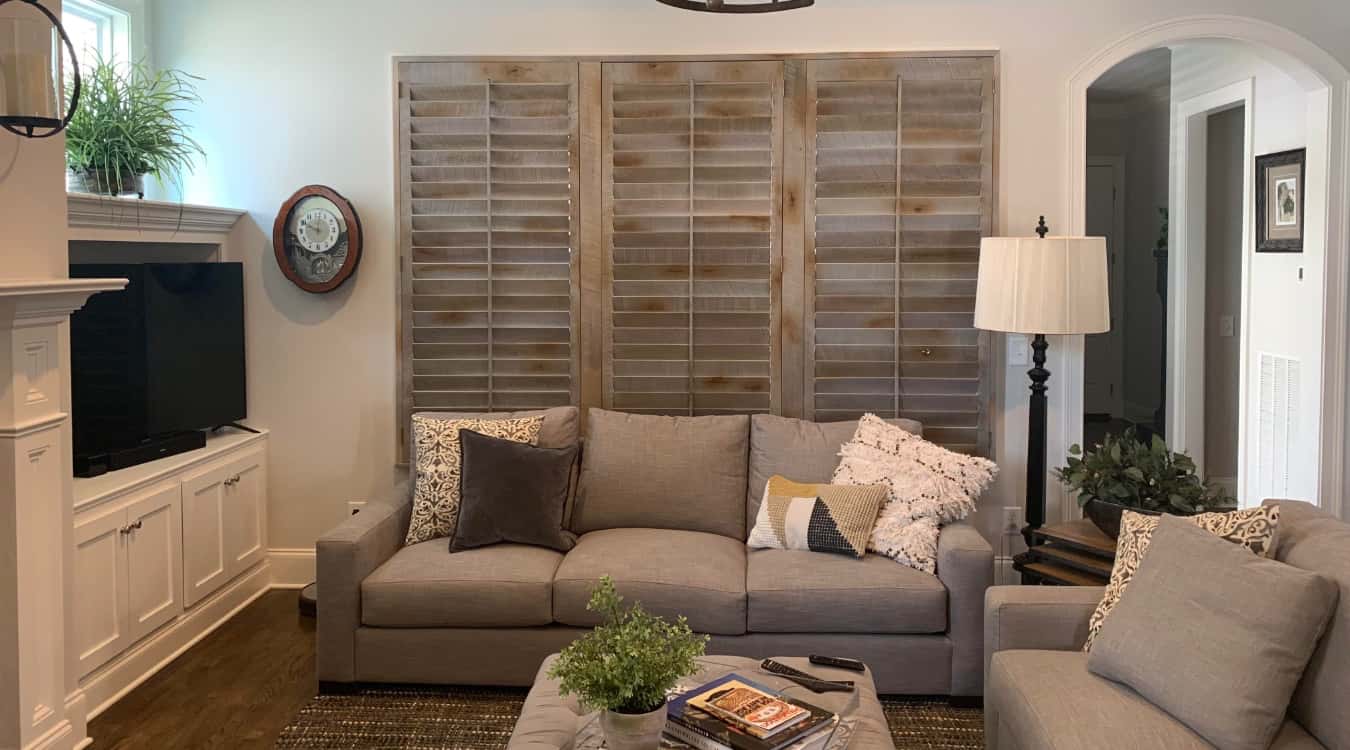 Reclaimed wood can provide a truly exceptional window treatment. It helps, of course, when your reclaimed wood shutters are themselves masterpieces. And Sunburst makes sure they are. You'll find there's as much to love about their operation as there is to love about their soft, natural beauty. Tilt the louvers open to admit more light. And tilt them closed to more fully appreciate the weathered look of reclaimed wood on your window. Don't rely only on our word for it, though. There's a whole world more to learn about reclaimed wood for windows in Fort Lauderdale. Explore!
2. Reclaimed Wood and Walls
Bring the outside in with a reclaimed wood wall. Reclaimed wood paneling makes your wall distinctive and imparts a comforting atmosphere to the room. Regardless of whether you have a fireplace, artwork, TV, or bookcase to complement, a reclaimed wood wall will look incredible behind it and provide just the effect you you desire.
3. Floors of Reclaimed Wood
Looking to redo a floor in your house? Lots of wood flooring can make a room feel warmer, but flooring of reclaimed wood has a singular beauty borne of the time – often decades – the wood has been outside. Regardless of whether you like the great outdoors or just like the look and feel of weathered wood, you'll be blown over by what a reclaimed wood floor can do to revitalize your home.
4. Reclaimed Wood and Cabinets
What better excuse could you have to re-do your kitchen cabinets now that better-quality reclaimed wood is so popular and easily accessible? It's the natural way to revitalize your kitchen as a whole. Each panel of reclaimed wood tells a fascinating story – of considerable time during which it languished in a forgotten building, maybe, or as part of a fallen barn or fence. And a bit of that narrative will live on in your reclaimed wood cabinets, coming to mind whenever you're around them.
5. Reclaimed Wood as a Table
Tabletops fashioned out of reclaimed wood can add a modern, assuredly unique ambiance to your dining room or home office. Partner the subtle, natural hues of reclaimed wood with your décor to achieve a consistent, agreeable look that fulfills your expectations – at the same time it elicits praise from guests!
6. Bookcases of Reclaimed Wood
However else we may regard them, books make great decorative pieces. Leather, vinyl, buckram, or paperbound books and those with colorful dust jackets look especially pleasing on a coffee or end table, on a bookshelf, or in a large bookcase. Their delightful variety is both accentuated and unified in bookcases of real wood, too. And bookcases of reclaimed wood, given their natural colors, knots, holes, scratches, and other telling features, create an especially eye-filling, one-of-a-kind furnishing.
7. Pics "Pop" in Frames of Reclaimed Wood
The soft-hued, natural look of reclaimed wood is wonderfully apt for picture frames. Use it to showcase your favorite artwork and personal photos in a decidedly eye-catching manner. It's worth noting, too, that frames of reclaimed wood can be designed in a multitude of styles, so they'll harmonize with just about any look you've established for your home.
8. Redo Your Headboard in Reclaimed Wood
Few things can upgrade the look of a bedroom like a intelligently designed and constructed headboard. There's no one way, of course, to attach a headboard. It can be – and often is – attached to the bed itself. But many homeowners nowadays want it fastened to the wall behind their bed. However you want it, a headboard created using reclaimed wood planking can be extraordinarily breathtaking. It's natural coloring and weathered features make it well suited to an expansive range of styles, from antique to modern. With reclaimed wood, you'll find you have no limits on your imagination to to stop you from realizing the headboard that dreams are made of!
Let Reclaimed Wood Revitalize Your Design Sense
Our goal was to inspire you with these 8 ideas for using reclaimed wood. That said, we have lots of other ideas as well – ideas that pair exquisitely with the reclaimed wood shutters we alone offer in Fort Lauderdale. Our experts would be pleased to show you samples of our shutters, answer your questions, and give you a range of other superb design ideas. Contact us at 561-440-8535 to schedule your free in-home design consultation at your first opportunity!